Mexican Raclette Olé: Sweet corn ragout with oregano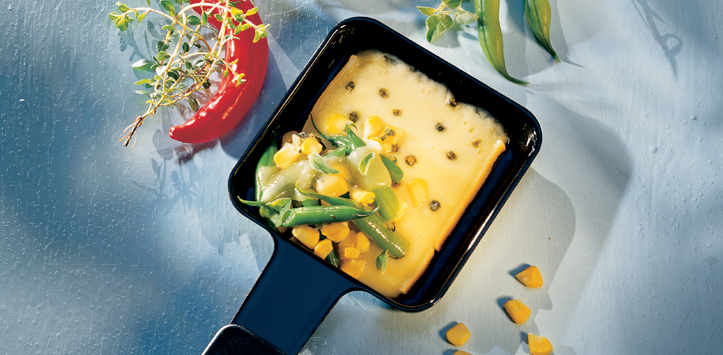 Ingredient
for 4 persons
2 sweet corn cobs, cooked
200 g fine green beans trimmed
1 finely chopped onion
Butter to sauté
2 dsp chopped finely oregano
1/3 tsp salt
200 - 250 g Swiss raclette cheese cut into slices
Garnish: a few fresh oregano leaves
Preparation
1. Cut corn from the cob.
2. Cut green beans into 2 cm pieces, cook briefly in salt water so they remain crunchy. Cool under running water and leave to drain.
3. In a pan, sauté onions in butter until they are transparent. Add sweet corn, beans, oregano and salt. Mix well.
4. Divide sweet corn ragout over the grill pans. Place a slice of raclette cheese on top. Grill.
Nutrition [Translate to Englisch:] Eine Portion enthält 366 kcal, 19 g Eiweiss, 27 g Kohlenhydrate, 20 g Fett