Airy grilled focaccia with Raclette cheese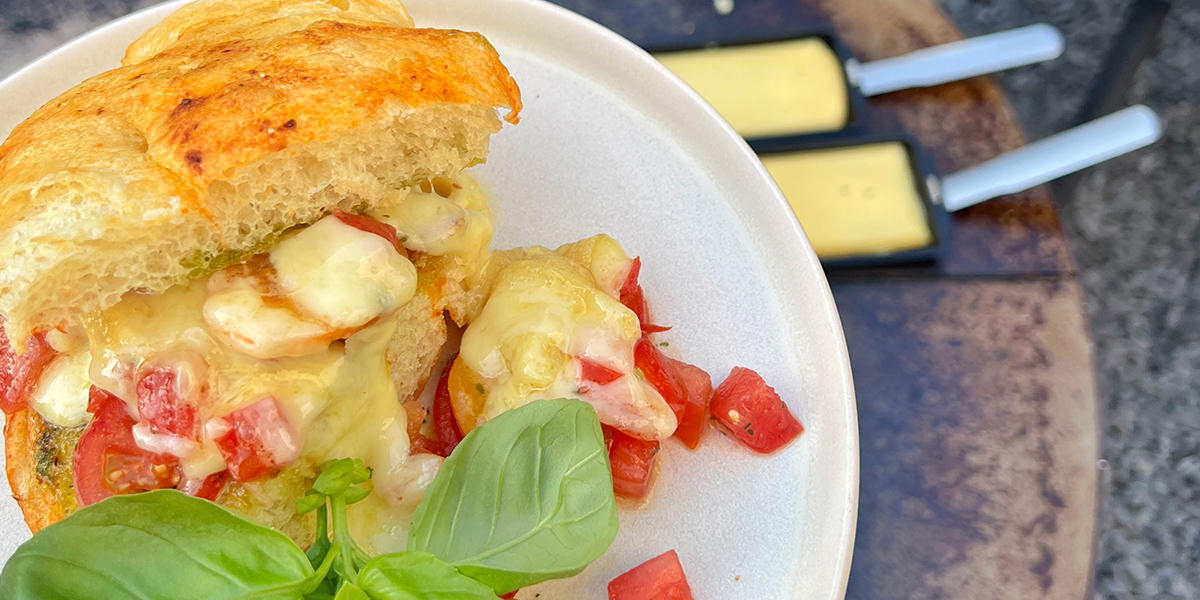 Ingredient
For 4 portions
For the airy focaccia:
400 g spelt flour, light
250 ml water
10 g yeast
1 tsp salt
Olive oil
Tomato sauce
Basil oil:
100 ml olive oil
20 g basil
½ garlic clove
2 tbsp tomato sauce
2 tbsp basil oil
Topping:
3 large tomatoes, diced
White wine vinegar
Some of the above basil oil
½ garlic clove
Cheese from Raclette Suisse
Salt, pepper
Preparation
150
minutes
In the oven and on the grill
Preparation time: approx. 2.5 hours
of which 40 minutes active working time / 115 minutes letting the dough rise and baking time
1. Knead the flour, water, yeast, salt and olive oil into a smooth dough. The dough should have a soft consistency.
2. Cover the dough and let is rise for approx. 30 minutes, then tip into a baking tray that is well-oiled or lined with baking paper (do not knead).
3. Pull the dough into the tray with lightly oiled fingers and press down gently. The whole tray should be covered with dough. Only press the dough down as much as absolutely necessary.
4. Mix the tomato sauce with the basil oil and spread on the surface of the dough. Let it rise again for approx. 1 hour.
5. Press holes in the dough with lightly oiled fingers. This creates real bubbles in the dough and the focaccia becomes really airy.
6. Place the tray in an oven pre-heated to 180°C and bake for 25 minutes.
7. Let the focaccia cool down a bit and cut into 6 slices. Then halve the focaccia slices crossways and brush with the basil oil.
8. Season the tomatoes with some basil oil, vinegar, salt and pepper.
9. Toast the coated focaccia slices on the grill briefly, place the Raclette cheese in the grill pans and allow to melt. Place the tomatoes on the toasted focaccia slices, top with tomatoes, pour the melted cheese over them, and the airy grilled focaccia is ready.
Author: Foodwerk.ch
Raclette Suisse