French onion soup with Raclette baguette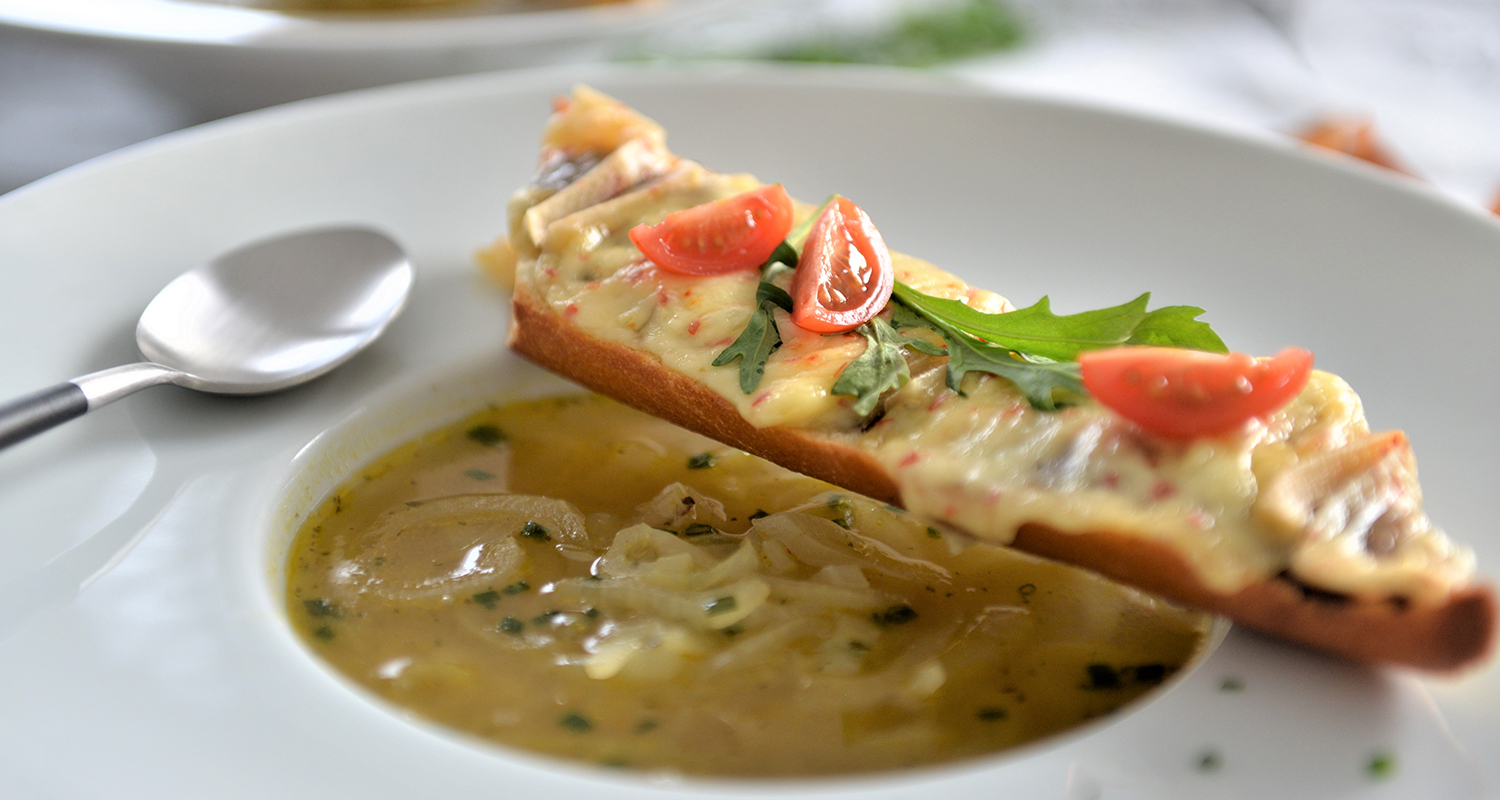 Ingredient
Serves 4
For the soup:
1 heaped tbsp butter
1 level tbsp brown sugar
4 medium-sized onions, cut into slices
1 level tbsp flour
1 dl white wine
1.2 litres vegetable stock
10 g chives, of which 5 g for decoration, thinly sliced
For the baguettes:
1 large baguette (approx. 260 g) cut in half, (cut off the edges and slice crosswise to make 4 halves)
150-170 g Raclette cheese, paprika or plain
3 tsp olive paste
some rocket salad
5 cherry tomatoes
Preparation
35
minutes
In pan and oven
Preparation time: 35 min
Cooking time: 5-8 min
1. Melt butter in a high pan, add brown sugar and onions and sauté briefly.
2. Add flour and stir, deglaze with the white wine and pour in the vegetable stock.
3. Cover and simmer on medium heat until the onions are soft. (15-20 min)
4. Lastly add the chives, season as desired and keep warm.
5. Preheat the oven to 230 degrees. Spread the olive paste on the baguette halves and top with Raclette cheese. Place on a tray lined with baking paper.
6. Gratinate: 230 degrees/middle of the oven/5-8 min.
7. Serve: pour the soup into deep dishes, top baguettes with some rocket salad and cherry tomatoes and place on the edge of the plate. Sprinkle with the chives and serve at once!
Author: Recipe from food blogger Belinda
Raclette Suisse