Filled peppers with Mediterranean raclette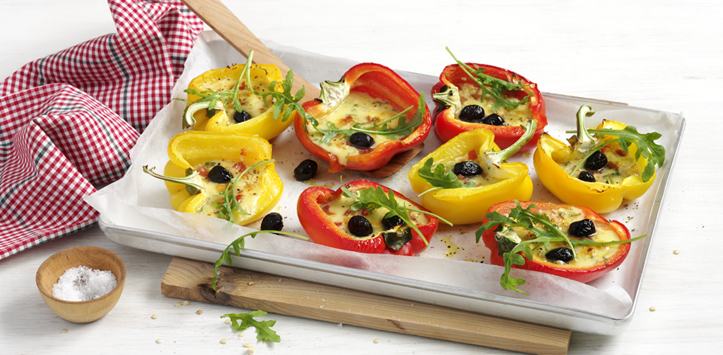 Ingredient
for 4 serves
Oven-sized baking sheet or large gratin dish
Baking paper
4 large pepper or pointed pepperoni, halved lengthwise and seeded
1 handful rocket or spinach, according to taste
Filling:
1 pressed garlic clove
1 chopped spring onion, including the green part
1 medium-sized tomato, diced
1 handful pitted black olives
300 g sliced raclette cheese
Freshly ground pepper
A bit of rocket or spinach for garnishing
Preparation
40
minutes
In the oven
Preparation: around 20 minutes
Cooking time: around 20 mins
1. Preheat conventional oven to 200°C (convection oven to around 180°C).
2. Place pepper halves with filling on top on a baking sheet lined with baking paper. Top with rocket or spinach.
3. Filling: mix everything together and place on the halves. Cook for around 20 mins in the middle of the preheated oven. Garnish.
With online video cooking instructions

Nutrition [Translate to Englisch:] Eine Portion enthält 344 kcal, 20 g Eiweiss, 13 g Kohlenhydrate, 23 g Fett
Author: Antonia Koch
Raclette Suisse