Vegetable Potato Gratin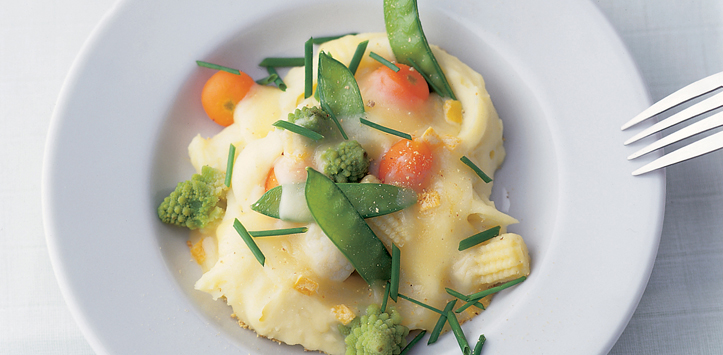 Ingredient
For 2 persons
300 g ready-seaoned frozen vegetable mix, e.g. "Provence" mix
1 bag of instant mashed potatoes for 2-3 helpings
200 g Swiss Raclette cheese
freshly ground pepper
1 bunch of chives, coarsely snipped
Preparation
20
minutes
1 Defrost vegetable mix in microwave oven.
2 Prepare mashed potatoes according to instructions on bag, put into 2 small gratin tins or soup plates. Cut Raclette cheese into pins, put half of them on mashed potatoes. Spread vegetable mix onto it and layer with remaining Raclette cheese.
3 Heat in microwave oven at full power until Raclette cheese has melted and vegetables have become hot. Season, sprinkle with chives, serve immediately.
Tip: The mixture au gratin may also be browned for 8-10 minutes in an oven preheated to 200 °C.
Nutrition [Translate to Englisch:] Eine Portion enthält 589 kcal, 31 g Eiweiss, 51 g Kohlenhydrate, 29 g Fett