Gratinated Raclette Nachos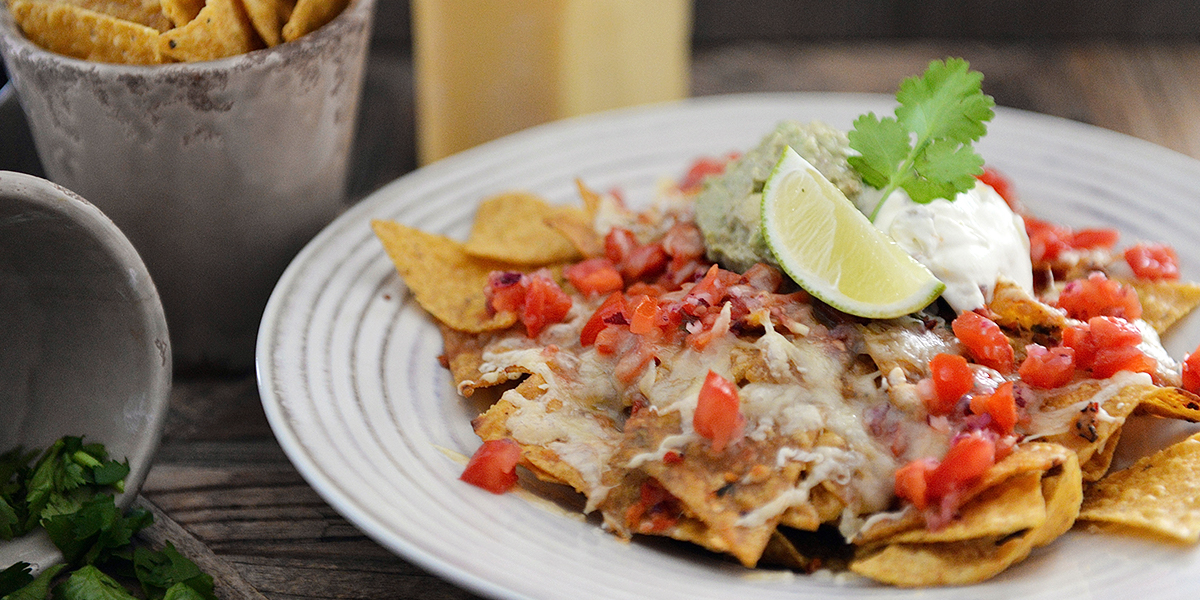 Ingredient
For 4 portions
200 g nachos (tortilla chips)
220 g plain Raclette cheese, coarsely grated
Salsa:
400 g ripe tomatoes, coarsely chopped, (drain off any juice that has formed)
1 onion, chopped
A little fresh coriander, chopped
Salt and pepper from the mill, to taste
Guacamole:
2 ripe avocados, flesh mashed with a fork
Juice of ½ a lime
1/2 chili, seeds removed, cut into thin strips
1 heaped tbsp crème fraîche
Sea salt and pepper from the mill, to taste
Gratin dish or suitable ovenproof crockery
2 small bowls
Preparation
45
minutes
In the oven
Preparation time: 35 mins
Cooking time: approx. 10 mins
1. For the salsa, put all ingredients into a bowl and season with salt and pepper. Important: to prevent the salsa from becoming too watery, make sure to drain off the resulting tomato juice. Set the salsa aside for further use.
2. Likewise, put all ingredients for the guacamole into a bowl, mix and season. Place an avocado pit in the ready prepared mixture, as this prevents the guacamole from turning an unappealing colour.
3. Preheat a convection oven to 180 degrees. Now place the nachos with the grated Raclette cheese in a mould or other suitable dish. Gratinate in the oven for about 10 minutes until the Raclette cheese is nicely melted.
4. Dressing: as soon as the gratinated nachos come out of the oven, spread half of the salsa over them (serve the rest in a separate small bowl). Then top with a large spoonful of crème fraîche and guacamole (here again serve the rest separately) and sprinkle a little coriander on top as decoration. SERVE IMMEDIATELY!
Tip: Salsa and guacamole can be prepared several hours in advance. Allow to reach room temperature before serving.
Variants: cook nachos with chorizo, vegetable maize, red beans and/or jalapeños.
Author: Belinda from "eat_letters_and_deco"
Raclette Suisse