Hot Raclette Pretzel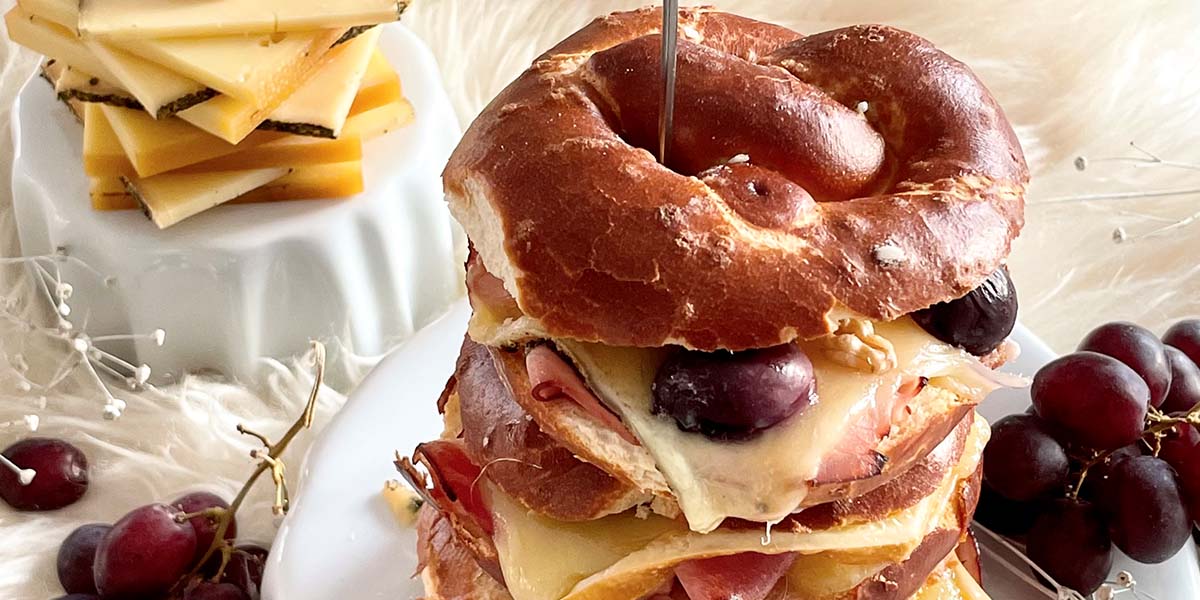 Ingredient
for 4 people as a snack
(as a meal, double the quantity)
4 fresh pretzels
A little butter for spreading
4 slices of finest country ham
8 slices of raclette cheese, 40 g each (320 g)
8-10 tree nuts (walnuts), broken into pieces
8-10 blue grapes, halved
Approx. 4 tsp crème fraîche
Preparation
20
minutes
In the oven
Preparation time: 15 min,
baking time: 5-6 min
1. Preheat a convection oven to 220°.
2. Cut the pretzels lengthwise in the middle and spread the lower halves with butter.
3. Place a slice of ham and a slice of raclette cheese on top.
4. Top with the grape halves and tree nuts.
5. Now bake the pretzel toppings in the oven for approx. 5 min until the raclette cheese has melted. Then place the pretzel lids on the tray for just 1 min to warm them up as well.
6. Serving: After baking, spread some crème fraîche on the bottom halves and cover with the pretzel lid. Be sure to serve hot!
Serve with some seasonal salad.
To enjoy as finger food, simply wrap with some sandwich paper.
Author: Belinda Kern from "eat, letters and deco"
Raclette Suisse