Quick pan lasagne with raclette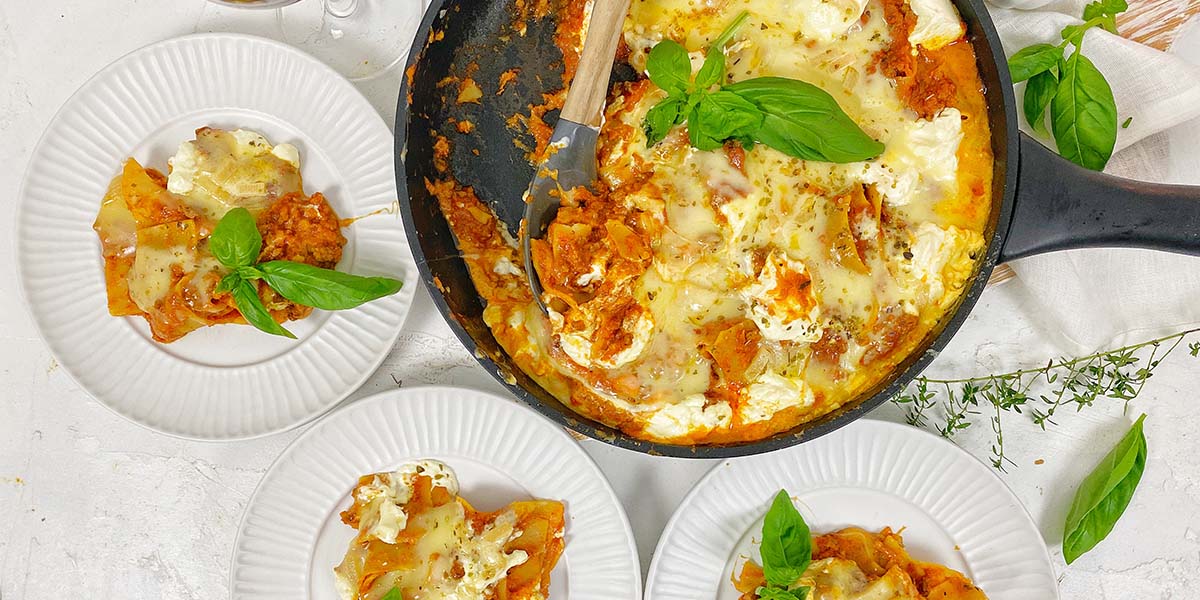 Ingredient
For 4 persons
400 g minced beef
1 clove of garlic
1 shallot or small onion
4 tbsp tomato puree (tomato paste)
450 ml bouillon
400 g tomato sauce (strained tomatoes, alternatively chunky canned tomatoes)
200 g raclette cheese (Raclette Suisse / Seiler raclette cheese)
150 g mascarpone
1 tbsp olive oil
1 tbsp oregano, dried
Salt/pepper
1-2 carrots, finely grated
Approx. 9 lasagne sheets
Preparation
30
minutes
In the pan
1. Heat the oil in a frying pan.
2. Brown the minced meat, grated carrots, chopped garlic and onions well.
3. Add the tomato purée (tomato paste), also fry briefly and deglaze with bouillon and tomato sauce (strained tomatoes). Bring to the boil briefly and season well.
4. Quarter the lasagne sheets and add them individually to the sauce.
5. Cover and cook on medium heat, stirring occasionally, until the lasagne sheets are just tender. This takes about 15-20 minutes.
6. Season again if necessary.
7. Spread the mascarpone and the raclette cheese cut into small cubes over the pan lasagne, sprinkle with oregano, cover and leave to stand for a further 10 minutes on low to medium heat.
8. Serve and enjoy.
Tip:
If you have leftovers, you can put them in a gratin dish and reheat the next day at 200°C for about 15 minutes. The leftovers can also be frozen and gratinated later.
Author: From Caro and Tobi at Foodwerk.ch
Raclette Suisse