Raclette egg muffins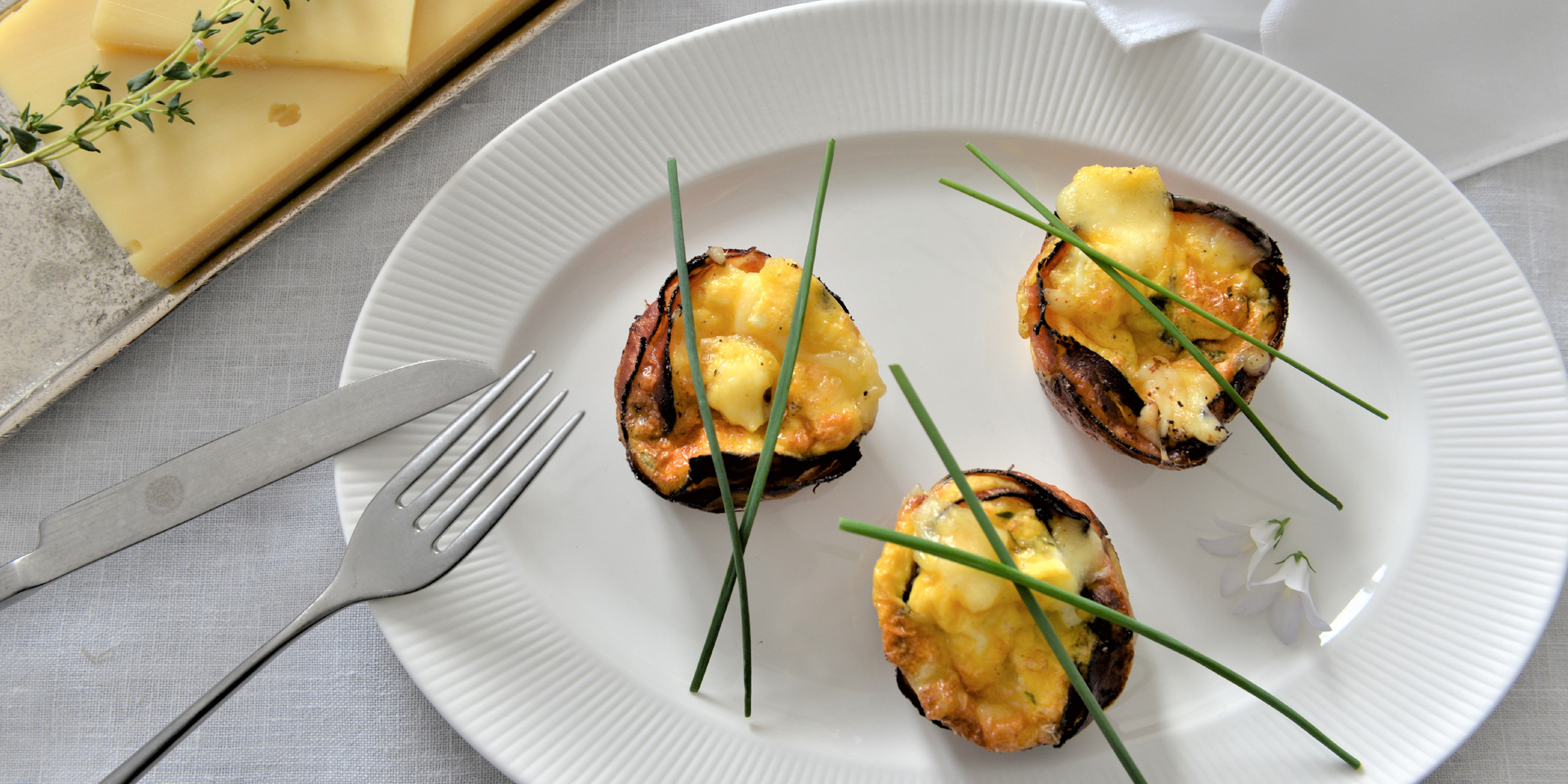 Ingredient
Makes: 8 pieces
For one muffin tray
8 slices toast bread
3 slices (35 g) Raclette cheese classic
16 slice herb bacon (70 g)
For the egg mass:
6 eggs
2 pinches of salt
Some pepper from the grinder
Some grated nutmeg
3 sprigs fresh thyme stripped of leaves
1 heaped tsp wheat starch
To finish:
Chives for garnish
Plus:
Round cutter the size of the muffin tray base, approx. 6 cm Ø
Preparation
45
minutes
In the oven
Preparation time: 30 mins
Baking: 15 mins
1. Grease the muffin tray well.
2. Lay 2 bacon slices along each inner side of the muffin tray.
3. Cut out rondelles (round slices) from the toast bread slices, in the size of the muffin tray base and lay on the tray floor.
4. Cut the Raclette cheese into small cubes and spread in the muffin tray.
5. Now whisk egg, salt, pepper and nutmeg together in a bowl.
6. Add the stripped thyme leaves and wheat starch and mix everything together well.
7. Pour the mass carefully into the moulds.
8. Baking: cook in preheated convection oven at 220 degrees for 15 mins. (The muffins swell up somewhat in the oven but then collapse again).
9. After baking, lift the Raclette egg muffins out of the tray, place on a grid and let stand for a short while. Top with 2 chive slices and serve immediately.
Add a few datterini tomatoes as desired.
NoFoodWaste tip: Conjure up fine croutons from the remains of the cut-out toast bread. Cut the bread into little cubes and cook on medium heat for about 5 minutes in a frying pan with plenty of olive oil and some herbs. Goes perfectly with a salad.
Author: Belinda Kern (Eat, letters and deco)
Raclette Suisse