Raclette with truffles and fruits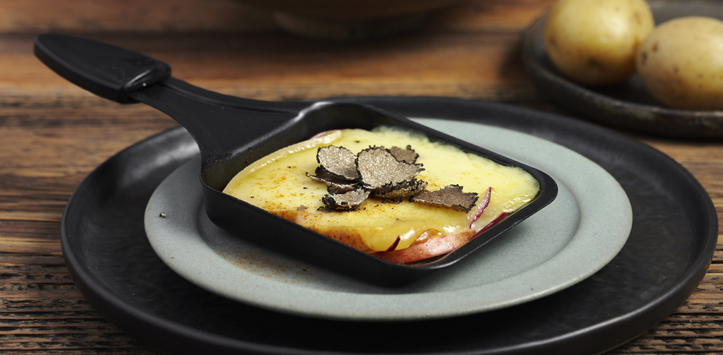 Ingredient
for 4 serves
Raclette oven and trays or small grill pans
Possibly truffle grater
600 - 800 g sliced raclette cheese
1 - 2 red onions, cut into thin strips
2 ripe pears, thinly sliced
2 apples, thinly sliced
1 truffle or truffle pesto
Chilli powder, according to taste
Preparation
5
minutes
Raclette oven
Preparation: 5 mins
1. Place onions, pear and apple slices in small trays and top with raclette cheese.
2. Melt cheese under the grill or in raclette oven.
3. Remove mixture from small trays and spread thin truffle slices or truffle pesto on top. Season with a bit of chilli powder.
Tip: truffles and truffle pesto can be found in delicatessens. Truffle pesto can be deep frozen in portions in ice cube trays. If you keep pesto in the fridge, clean glass rim and cover pesto completely with sunflower or rapeseed oil.
Author: Antonia Koch
Raclette Suisse