Raclette vegetable roses quiche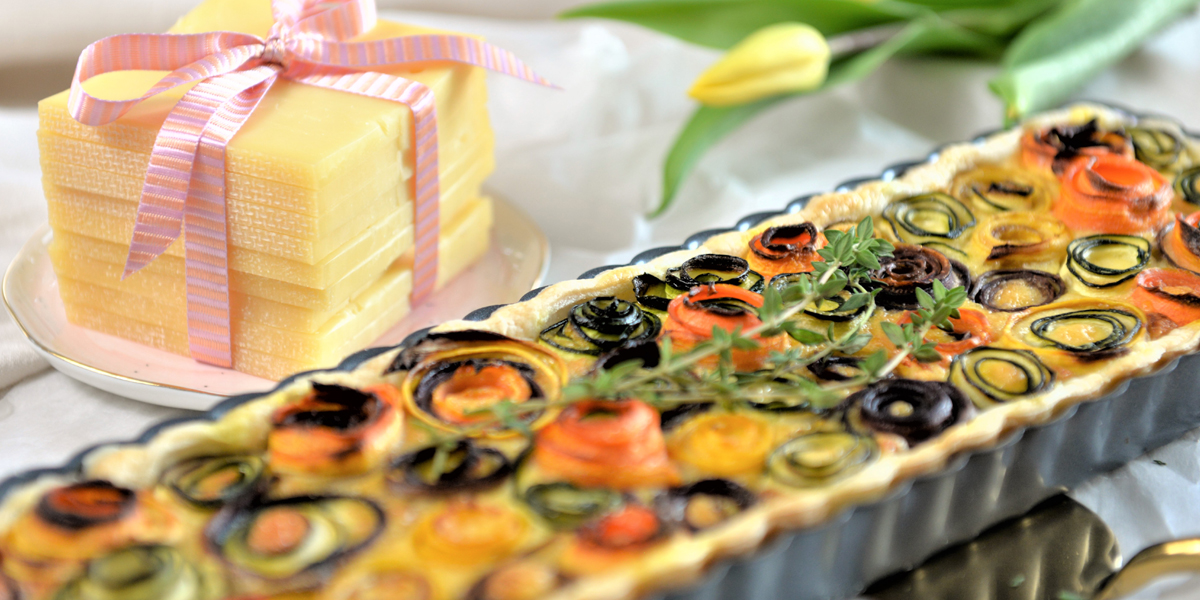 Ingredient
For 4 dishes
For a 35 cm oblong tart tin
1 rectangular rolled out puff pastry
1 medium-sized zucchini
6 carrots, different colours
5 slices of Raclette cheese
A few breadcrumbs
2-3 tbsp olive oil
For the topping:
1 dl double cream
1 egg
Salt and pepper
For garnish:
Some fresh thyme
Preparation
60
minutes
In the oven
Preparation time: 60 min
Baking time: 50 min
1. Peel carrots and put aside. Wash the zucchini, cut all vegetables lengthwise into thin strips using a vegetable slicer.
2. Lay the vegetable strips in a baking tray, drizzle with the olive oil and bake in a pre-heated oven at 200 degrees for 2-3 minutes (this makes it easier to roll the vegetable strips).
3. Grease and flour the tart tin, trim the puff pastry a bit bigger than the tin and place in the tin. Pass the rolling pin over the edge of the tin to remove surplus dough.
4. Now pierce the dough base firmly with a fork and then sprinkle with some breadcrumbs.
Lay the Raclette cheese slices on top.
5. Form rose shapes with the vegetables strips and spread on the bottom of the tin in mixed colours.
6. For the topping: whisk the double cream with the egg and season well with salt and pepper. Now pour the topping carefully over the vegetable roses.
7. Baking: Bake the quiche at 200 degrees in a convection oven for about 50 minutes. After 25 minutes you can cover the quiche with tinfoil, to prevent it from browning too much.
8. After baking, remove from the tin and sprinkle if desired with some thyme leaves, then immediately serve hot!
Tip: goes well with a fine seasonal salad.
Author: Belinda Kern (Eat, letters and deco)
Raclette Suisse