Summer herb spätzli with cucumber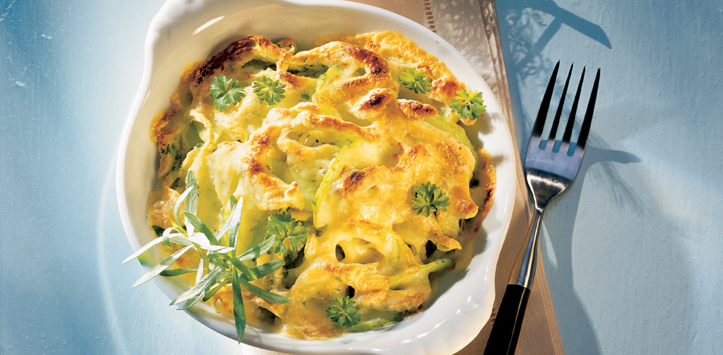 Ingredient
for 4 persons
Gratin dish 25 - 30 cm long
Spätzli dough
400 g flour
11/2 tsp salt
3 dsp parsley, finely chopped
1 dsp estragon, finely chopped
1dsp dill, finely chopped
2 dl milk
4 eggs
2 cucumbers, peeled
1 dsp rapeseed oil
Butter for the dish
250 g Swiss raclette cheese cut into slices
Garnish: fresh parsley, estragon and dill
Preparation
1. Mix the flour, salt and herbs. Beat the eggs and milk well. Add to the flour, mix well. Knead until the dough is aerated and has a smooth surface. Cover in a bowl and leave 30 minutes at room temperature.
2. Bring a large pot of salt water to the boil. Using a flat knife draw portions of the dough over a damp chopping board. Add the thin dough strips directly into the boiling water. Remove immediately the floating strips with a sieve and cool in a bowl of cold water. Drain.
3. Cut the cucumber in half along its length and remove the seeds with a teaspoon. Cut the halves into fine slices. Add together with the spätzli and oil into the gratin form.
4. Sprinkle with raclette cheese and place in a the middle of the oven preheated to 200°C. Bake for 20 minutes.
5. Garnish with the remaining fresh herbs.
Nutrition [Translate to Englisch:] Eine Portion enthält 720 kcal, 34 g Eiweiss, 80 g Kohlenhydrate, 29 g Fett