Cordon bleu truffle raclette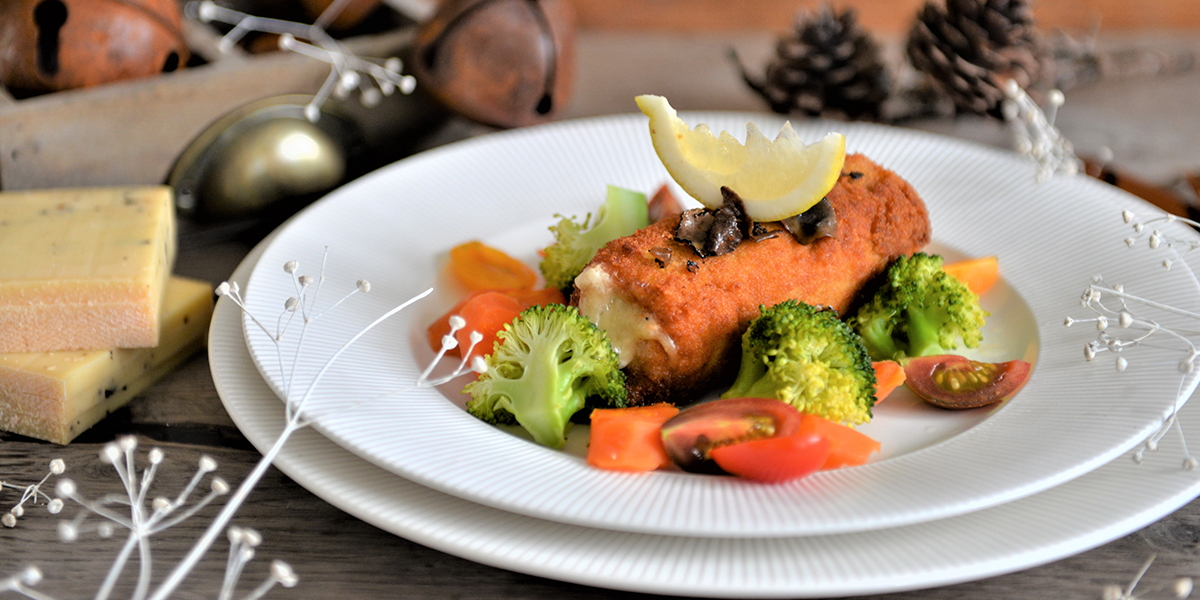 Ingredient
Serves 4
4 pieces of pork kidney, 180 g each, pounded to a cutlet with a meat mallet or ordered in advance from the butcher
Salt and pepper from the mill
4 slices of bresaola
Approx. 200 g truffle raclette, grated
2-3 eggs, beaten
Approx. 6 tbsp flour
Approx. 6 tbsp breadcrumbs
Enough peanut oil
1 lemon, cut into quarters
According to taste:
Pickled summer truffles, for garnish
Preparation
35
minutes
In the pan
Preparation: approx. 25 min
Cooking time: 10 min
1. Spread out the cutlets and season one side only with salt and pepper.
2. Place a slice of bresaola on each cutlet. Now spread ¼ of the truffle raclette on each and press down a little. (Leave the edge free)
3. Roll up the cutlets from one side and close both ends. To do this, place the protruding pieces of cutlet on top of each other and press them tightly. You don't need toothpicks to hold them in place. The breadcrumbs serve as "glue".
4. Divide the flour, beaten eggs and breadcrumbs separately into deep plates.
5. Breading: first dredge the cordon bleus all around in the flour, then dip in the egg mixture so that the breadcrumbs stick well all over in the last step. Press the breadcrumbs down well once more.
6. Frying: Heat the oil well in a frying pan and add the cordon bleus.
7. TIP: It is important to use enough oil so that the cordon bleus become really crispy. They can therefore really swim in the oil.
8. After a short time, reduce the heat to medium and fry the meat pieces for 10 minutes, turning frequently, until golden brown.
9. Lift the cordon bleus out of the pan, place briefly on a paper towel and dab off any excess fat.
10. Serving suggestion: Serve the cordon bleus immediately on preheated plates with a lemon wedge and, if desired, some pickled summer truffle.
Serve with seasonal vegetables or rice.
Important: Always coat the cordon bleu in breadcrumbs just before frying, otherwise they will not be as crispy. However, they can be well prepared up to this point.
Author: Belinda Kern von eat, letters and deco
Raclette Suisse