Fruity sweet pepper grill trays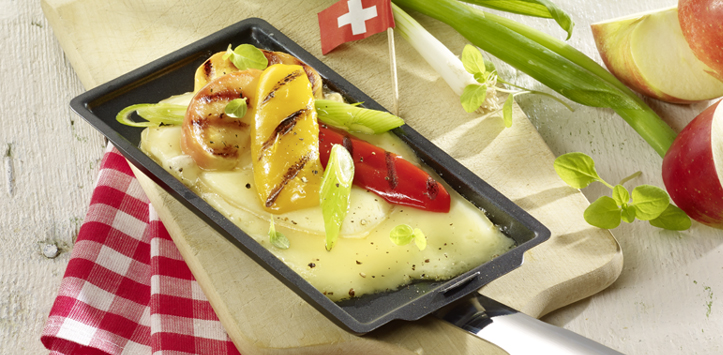 Ingredient
for 4 serves
8 slices raclette cheese (Raclette Suisse)
4 small colourful sweet pepper pods
1 tart apple (e.g. Cox's Orange)
2 spring onions, cut into rings
1 - 2 tbsp fresh majoram, chopped
1 tbsp maple syrup
1 tbsp lemon juice
1 pinch cinnamon powder
Preparation
1. Halve sweet pepper and press flat. Cut apple into slices and marinate in a mixture of maple syrup, lemon juice and cinnamon for around half an hour, then grill both for a few minutes until cooked to the desired degree of doneness.
2. Place a bit of spring onions in each grill tray, sprinkle with marjoram and top with 2 slices of raclette cheese. Add grilled sweet pepper and apple slices.
3. Place trays on hot grill and leave until cheese melts.
Nutrition [Translate to Englisch:] Eine Portion enthält 260 kcal, 29 g Eiweiss, 6 g Kohlenhydrate, 20 g Fett