Autumn-magic toast with Raclette cheese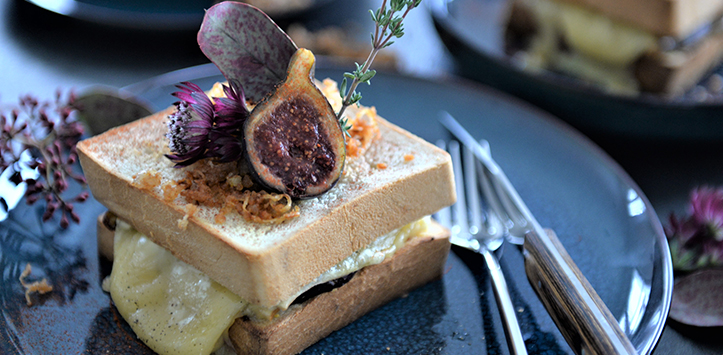 Ingredient
Makes 4 servings
Baking sheets
Baking paper
For fried onions:
1 medium-sized onion, cut into rings
1.5 tbsp flour
1.5 tbsp Panco flour (Asian breadcrumbs)
½ tsp salt
0.5 dl peanut oil
For toast:
8 thick slices of a sandwich loaf from the baker (not pre-sliced)
8 fresh figs, of which 2 for decoration
1 tbsp soft butter
1 tbsp coarse-grained mustard
8 slices of smoked Raclette cheese
4 tsp crème fraîche
Freshly ground pepper
Smoky paprika powder
Preparation
45
minutes
Baking Oven
Preparation time: 40 mins
1. Mix onion rings, flour, Panco flour and salt together well in a bowl.
2. Heat oil in a pan and fry onion ring mixture, stirring constantly. Reduce heat slightly as needed.
3. Dry onion rings on paper towels. Put aside.
4. Heat convection oven to 230°C and line a baking sheet with baking paper.
5. Put 4 slices of toast in the oven and let brown a bit. In the meantime, mix butter and mustard together. Remove toast slices from oven and smear with butter spread.
6. De-stem figs and cut pulp into thin slices. Arrange slices in a fan shape on butter spread.
7. Top with Raclette cheese, place on baking sheet and cook in an oven preheated to 230°C for about 5 mins, until cheese melts. 2 mins before the end of the cooking time, add second slices to the toast slices already on the baking sheet and cook together.
8. Remove baking sheet from oven, add a bit of crème fraiche to cheese, and season with freshly ground pepper and a pinch of paprika powder. Top with toast slices, add fried onions and fig halves, and serve immediately.
Tip: Goes well with a mixed leaf salad. You can also add a bit of fried bacon to the cheese and cook together.
Author: Belinda Kern from "Eat, letters and deco"
Raclette Suisse