Raclette Pear Salad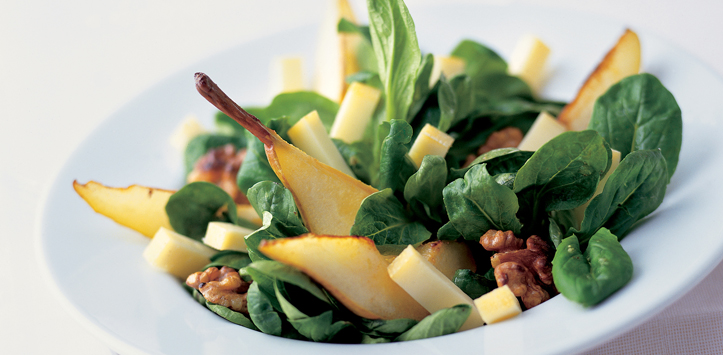 Ingredient
For 2 persons
50 g walnuts, shells removed
150 g lamb's lettuce
250 g Swiss Raclette cheese
2 firm pears
frying butter or frying cream
some slices of bread, e.g. walnut bread
some salad dressing for your choice
Preparation
1 Roast walnuts in a frying pan without any fat until they impart a nice strong smell. Put onto a plate, let cool.
2 Thoroughly wash lamb's lettuce, let drain, put into 2 soup plates. Cut Raclette cheese into pins, mix with walnuts and salad.
3 Cut pears into slices, remove core, slowly fry in frying butter. Wedge pear slices into salad, sprinkle with dressing, serve with bread.
Nutrition [Translate to Englisch:] Eine Portion enthält 736 kcal, 35 g Eiweiss, 20 g Kohlenhydrate, 59 g Fett