Fluffy Raclette Soufflé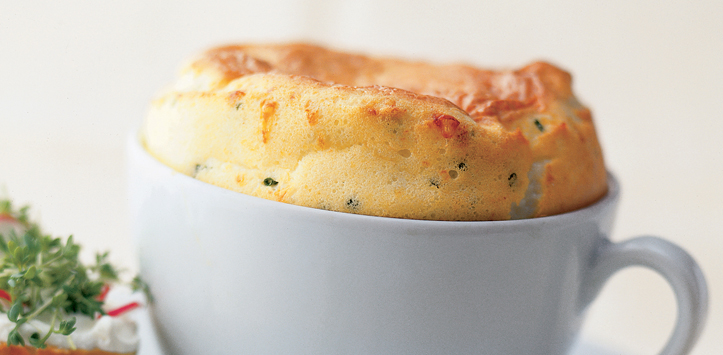 Ingredient
For 2 persons
For 2 large coffee cups or 5 dl soufflé tins
butter for cups or tins
2 dl milk
2 tablespoons flour
2 eggs
200 g Swiss Raclette cheese
1 bunch of chives, finely snipped
1 pinch of salt
freshly ground pepper
1 pinch of nutmeg
Preparation
30
minutes
1 Grease coffee cups or tins with butter, put to chill.
2 Mix milk with flour, bring to the boil by whisking mixture continuously, remove from cooker. Separate eggs, gradually fold egg yolk into milky mixture and stir gently. Grate Raclette cheese with the potato grater, add cheese and chives to the mixture, mix thoroughly and season.
3 Beat egg whites stiffly and gently fold into cheese mixture. Pour cheese mixture into cups or tins and bake for 15-20 minutes on the centre rack of the oven preheated to 200 °C. Remove soufflé from oven and serve immediately.
Tips: Serve rolls with cress and radish to the soufflé.
The soufflé mixture may also be baked in a large 15-cm diameter soufflé tin. The baking time will then be 25-30 minutes
Nutrition [Translate to Englisch:] Eine Portion enthält 521 kcal, 34 g Eiweiss, 13 g Kohlenhydrate, 38 g Fett