Party bread with raclette cheese, pull-apart bread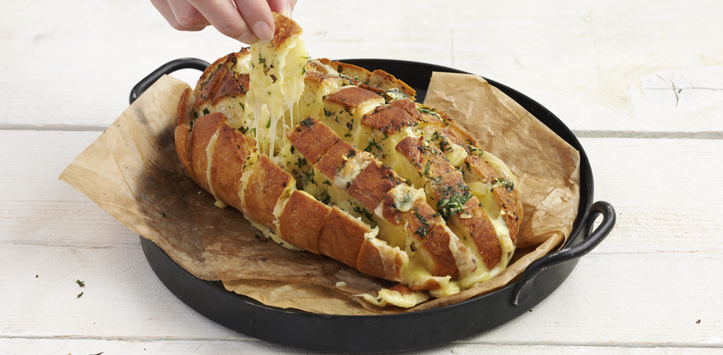 Ingredient
Serves 4 - 8 as an appetiser, serves 4 as a main dish
Aluminium foil (and baking paper)
1 baking sheet
1 loaf of bread, approx. 500 g (see Tip)
Butter mixture:
2 - 3 pressed garlic cloves
3 tbsp chopped parsley
50 g soft butter
Freshly ground pepper
½ tsp salt
300 g sliced raclette cheese, quartered
Preparation
50
minutes
Backing oven
Preparation: 25 mins
Cooking time: 25 mins
1. Bread: cut deep grooves into the bread about 2 cm apart, first lengthwise then diagonally, creating a crosshatch pattern. The cuts should be as deep as possible without cutting all the way through the bread.
2. Butter mixture: mix garlic, parsley, butter, pepper and salt together using a fork.
3. Preheat convection oven to 190°C (convection oven to 170°C). Stuff the raclette cheese slices lengthwise and crosswise deep into the grooves in the bread.
4. Place bread on aluminium foil/baking paper and smear the butter mixture evenly on the bread and in the grooves.
5. Wrap foil around the lower part of the bread and place on baking tray.
6. Cook for 25 - 30 mins on the second lowest oven rack.
7. Serve pull-apart bread on the aluminium foil or baking paper. Pull away bread cubes by hand. Cut or break apart.
Tips:
- Use stale bread. Great for recycling leftovers (NoFoodWaste)
- Prepare party bread to take away: wrap completely in aluminium foil (upper part as well) and keep in fridge. Take bread with you and cook onsite.
- Stuff bread grooves with ham as well as cheese.

Author: Antonia Koch
Raclette Suisse