Quesadillas with spinach-raclette filling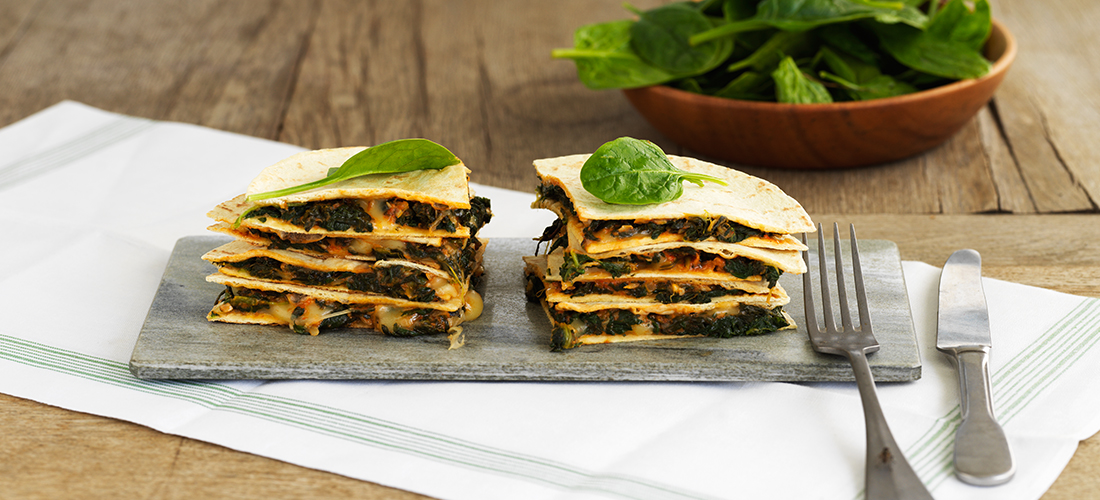 Ingredient
For 4 pcs
Serves 2
Frying pan with lid
Spinach filling:
1 finely chopped onion
2 pressed garlic cloves
Butter for sweating
400 g (fresh) spinach, blanched, drained, squeezed out and coarsely chopped
1-2 tbsp crème fraîche
2 tbsp tomato puree
Pepper, nutmeg, salt
Saint Luc spice mixture, according to taste
1 whisked egg
2-3 tbsp breadcrumbs
150-200 g Raclette cheese, diced
8 soft tortillas, around 20 cm large
Preparation
40
minutes
Frying pan
Preparation: 40 mins
Cooling time: 10 mins
1. Spinach filling: sauté onion and garlic in butter, add spinach, steam briefly. Add crème fraîche and tomato puree, mix, season. Remove from plate, let cool a bit. Mix together with egg, breadcrumbs and cheese cubes.
2. Heat frying pan on medium-high heat without adding fat. Add a tortilla and cover evenly with ¼ of the spinach-cheese filling. Cook covered for about 5 mins, until cheese melts.
3. Place another tortilla on the spinach-cheese filling, press down, cook covered for another 2-3 mins, remove from pan and place on a cooking board. Using a sharp bread knife, cut into pieces, stack as shown in the photo, and serve.
Tip: Replace fresh spinach with around 320 g of frozen, thawed spinach leaves.

Author: Antonia Koch
Raclette Suisse