Raclette Burger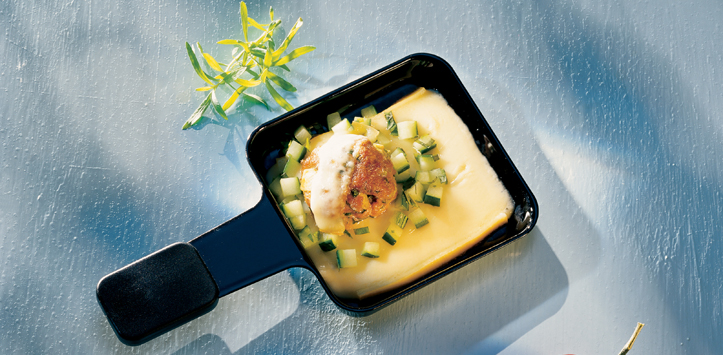 Ingredient
For 4 persons
250 g lean minced meat
1/2 tsp salt, and ground pepper
1 egg
3 dsp breadcrumbs
1 tsp mustard
1 dsp of ground dried estragon
2 spring onions (with shoots) sliced into fine rings
2 large cucumbers peeled
2 tsp ground dried estragon
200 – 250 g Swiss raclette cheese cut into slices
Preparation
1. Mix mincemeat, salt and pepper, egg, breadcrumbs, mustard, estragon, and spring onion in a bowl.
2. With damp hands make 8 equally sized hamburger patties and lay them on baking paper. Place in a 220°C preheated oven for 15 minutes. Remove and let cool.
3. Cut the cucumbers in half along the length and scrape out the seeds with a teaspoon. Cut into small cubes. Mix in estragon, salt and pepper.
4. Place cucumber cubes in the grill pans, place a hamburger patty on top, top off with a slice of raclette cheese. Grill.