Raclette cheese with beef filet, lemon-thyme and celery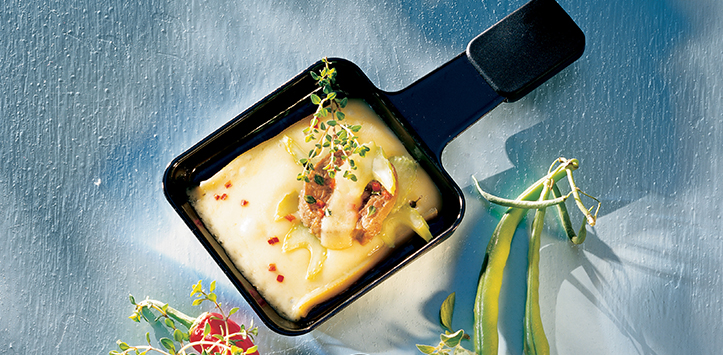 Ingredient
for 4 persons
Marinade:
2 dsp red wine
2 dsp rape seed oil
1 tsp mustard
2 tsp lemon-thyme leaves
1 medium peperonici finely chopped or 1 tsp cayenne pepper

250 g beef filet cut into 8 slices
1/4 tsp salt
1 large celery stick cut into fine slices
200 - 250 g Swiss raclette cheese cut into slices
Garnish: a few fine celery leaves
Preparation
1. For the marinade, mix all ingredients together, then coat the beef filet slices. Cover and place in the fridge to marinate for 30 minutes.
2. Sprinkle marinated filets with salt, place in grill pans and briefly grill in the raclette grill.
3. Remove grill pans and sprinkle celery slices over the filet and place a slice of raclette cheese on top. Grill.
Nutrition [Translate to Englisch:] Eine Portion enthält 324 kcal, 27 g Eiweiss, 1 g Kohlenhydrate, 24 g Fett