Raclette-Quesadillas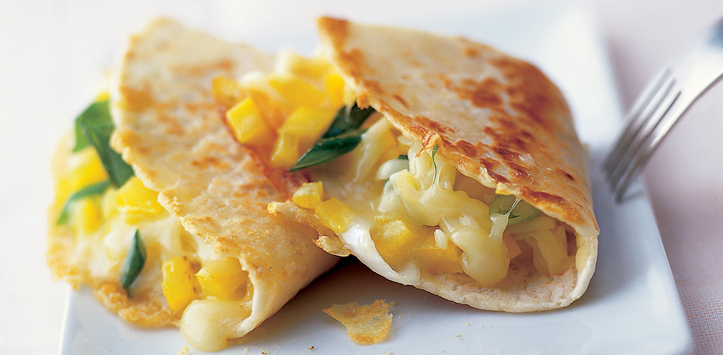 Ingredient
For 2 persons
250 g Swiss Raclette cheese
1 yellow pepper bell
3 spring onions
4 tortillas, ready-made, available at large retailers
finely ground pepper
Preparation
1 Grate Raclette cheese with potato grater. Peel pepper bell, remove seeds, cut into small cubes. Cut spring onions and green stalks into thin rings. Loosely mix all the ingredients.
2 Unfold tortillas, spread the stuffing on each of the four tortilla halves, generously season with pepper, fold and firmly press down the edges. Put onto baking tray lined with waxed paper.
3 Bake quesadillas for 5-6 minutes on the centre rack of the oven preheated to 200 °C or fry them on both sides in a coated frying pan until the Raclette cheese starts melting. Serve immediately.
Tips: Serve with salad.
Instead of wheat tortillas, use thick omelettes.
Nutrition [Translate to Englisch:] Eine Portion enthält 740 kcal, 37 g Eiweiss, 53 g Kohlenhydrate, 42 g Fett