Raclette Spätzli with grapes recipe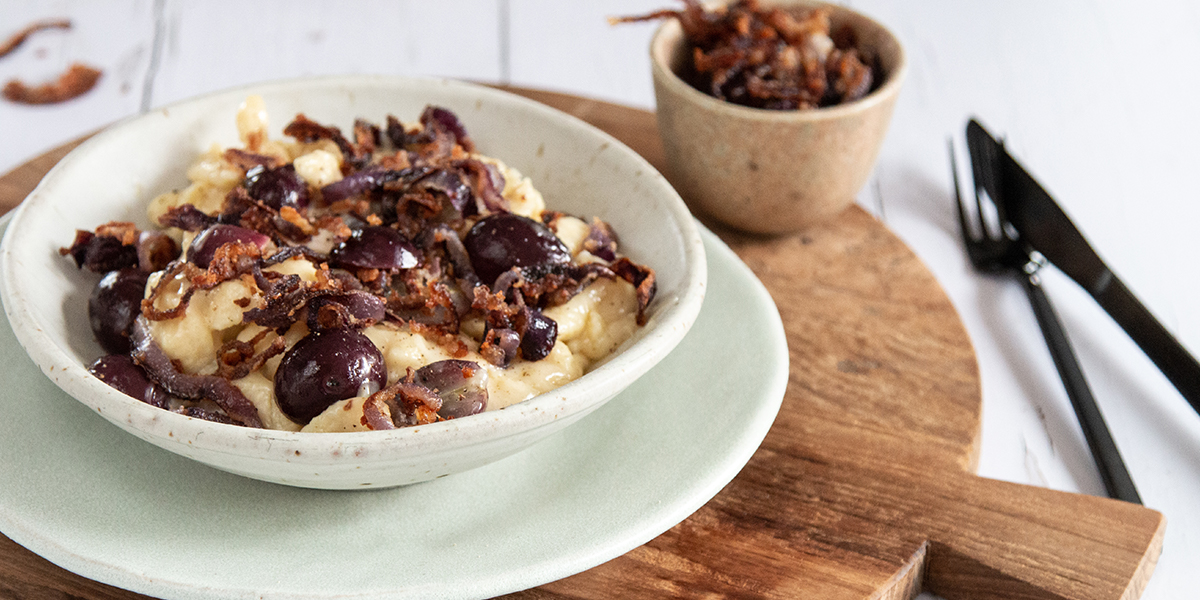 Ingredient
For 4 persons
Spätzli:
300 g flour
1 tsp salt
1 pinch nutmeg
3 eggs
1.5 dl milk water (half milk, half water)
Other ingredients:
300 g Raclette cheese
150-200 g red grapes, seedless
1 large onion
1.5 tbsp flour
Olive oil
Preparation
15
minutes
In frying pan and cooking pot
1. Halve the onions and cut them into fine strips. Sprinkle with flour, mix and fry in a little oil until crispy. Remove the onions from the pan and set aside. The pan will be used for the spätzli.
2. Wash and halve the grapes. Coarsely grate the Raclette cheese.
3. Mix all the spätzli ingredients well and put directly into the boiling, salted cooking water through a spätzli sieve or using a grater. Simmer briefly until the spätzli float to the top and ladle over into the pan of onions.
4. Immediately pour the grated cheese and 2-3 small ladles of spätzli water over the spätzli, stir to melt the Raclette cheese (takes 1-2 minutes), stir in the grapes and serve immediately. Sprinkle the onions on the plates. The more the better.
Tip: If you like, you can also sprinkle a good portion of freshly ground pepper on top.
Tip: Use more onions.
Tip: If you need to make it really quickly, use ready-made spätzli.
Author: Nadja Zimmermann from LouMalou
Raclette Suisse