Valais apricots on silverbeet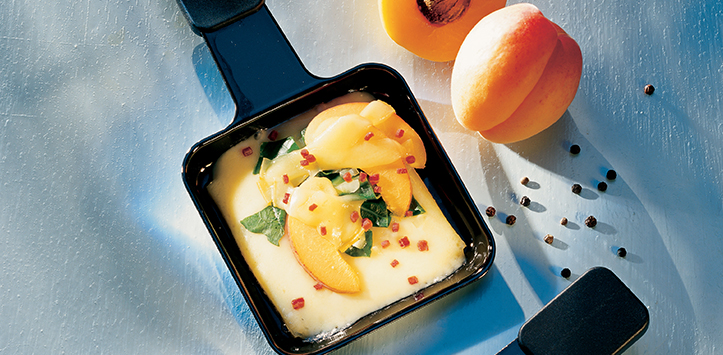 Ingredient
for 4 persons
300 g large silverbeet leaves (côtes de bette) trimmed
1 onion chopped finely
Butter to sauté
1 dl vegetable stock
Salt and ground pepper
8 ripe but firm apricots
1 dsp lemon juice
50 g dried beef or smoked schinken (ham)
200 - 250 g Swiss raclette cheese cut into slices
Preparation
1. Cut silverbeet leaves in 1 cm wide strips. In a pan sauté onions and silverbeet in butter until they are transparent. Add stock, cover and cook for 10 minutes. Remove cover and reduce until only 1 dsp of liquid remains. Salt and pepper to taste. Cool.
2. Halve the apricots, remove the stone, coarsely chop and mix with the lemon juice.
3. Divide the silverbeet over the pans. Add the apricots and meat pieces to the pans and cover with a slice of raclette cheese. Grill.
Nutrition [Translate to Englisch:] Eine Portion enthält 290 kcal, 18 g Eiweiss, 10 g Kohlenhydrate, 20 g Fett