Wine Baguette with Mushrooms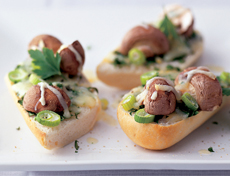 Ingredient
For 2 persons
1 baguette
4 tablespoons white wine
1 tablespoon Italian parsley, coarsely chopped
2 spring onions
250 g Swiss Raclette cheese
1 teaspoon dried thyme
150 g brown button mushrooms, cleaned
freshly ground pepper
Preparation
20
minutes
1 Cut baguette both lengthwise and crosswise, sprinkle cut surfaces with white wine and parsley.
2 Cut spring onions and green stalks into thin rings. Grate Raclette cheese with the potato grater. Mix both ingredients, spread onto the cut surfaces of the baguette and sprinkle with thyme.
3 Cut mushrooms in half, wedge into the Raclette cheese, season. Brown for 8 minutes on the centre rack of the oven preheated to 200 °C, serve hot.
Nutrition [Translate to Englisch:] Eine Portion enthält 1006 kcal, 78 g Eiweiss, 80 g Kohlenhydrate, 40 g Fett