Couscous Raclette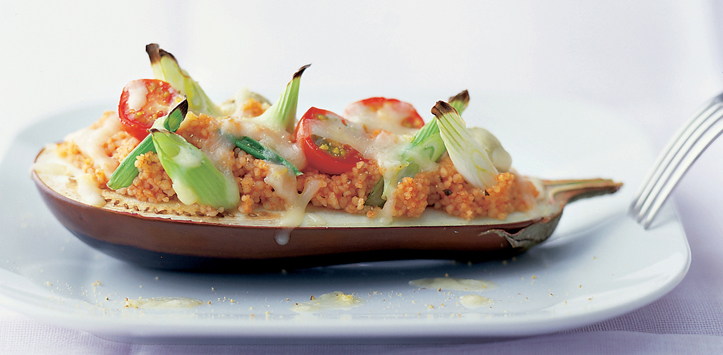 Ingredient
For 2 persons
2 aubergines approx. 500 g
a little white wine
1 spring onion
1,5 dl vegetable bouillon
4 dl tomato sauce, ready-made
1 teaspoon dried herbs of the Provence
freshly ground pepper
80 g couscous
200 g Swiss Raclette cheese
250 g cherry tomatoes
Preparation
25
minutes
1 Cut aubergines in half lengthwise, empty with spoon leaving a 1-cm wide rim. Brush emptied aubergines with white wine.
2 Cut spring onion and green stalk into thin rings. Bring aubergine pulp with vegetable bouillon, 1 dl of tomato sauce, spring onions, herbs and pepper to the boil. Add couscous in a steady trickle, remove from cooker and let swell for 7 minutes.
3 Cut ⅔ of the Raclette cheese into small cubes, ⅓ into rods. Mix cheese cubes with couscous and fill aubergine halves with the mixture. Cut cherry tomatoes into half and press them into couscous. Put cheese rods onto aubergines and brown for 5-8 minutes on the centre rack of the oven preheated to 200 °C.
4 Heat up remaining tomato sauce and serve with aubergines.
Nutrition [Translate to Englisch:] Eine Portion enthält 691 kcal, 36 g Eiweiss, 52 g Kohlenhydrate, 37 g Fett