Flower Power Raclette: Filled zucchini flowers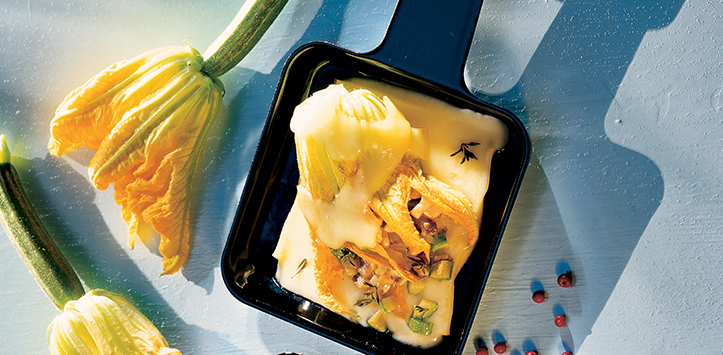 Ingredient
for 4 persons
8 zucchini flowers with mini zucchinis attached
200 g mushrooms
1 finely chopped shallot
1 pressed clove of garlic
2 tsp fresh thyme leaves
Butter to sauté
Salt and ground pepper
200 - 250 g Swiss raclette cheese cut into slices
Garnish: 8 thyme branches
Preparation
1. Cut each mini zucchini from their flower and finely chop. Chop the mushrooms and shallot finely and mix with the chopped zucchini. Add the chopped mix, garlic, thyme and butter into a pan and sauté for approx.
4 minutes. Salt and pepper to taste, leave to cool.
2. Carefully open the zucchini flowers, remove the stigma etc. and fill with the cooled vegetable mix.
3. Place the remaining mix in the grill pans, place a filled flower in each pan and cover with a slice of raclette cheese and grill. Garnish with the thyme branches.
Nutrition [Translate to Englisch:] Eine Portion enthält 347 kcal, 38 g Eiweiss, 5 g Kohlenhydrate, 20 g Fett