Pasta hearts with Raclette cheese and beetroot filling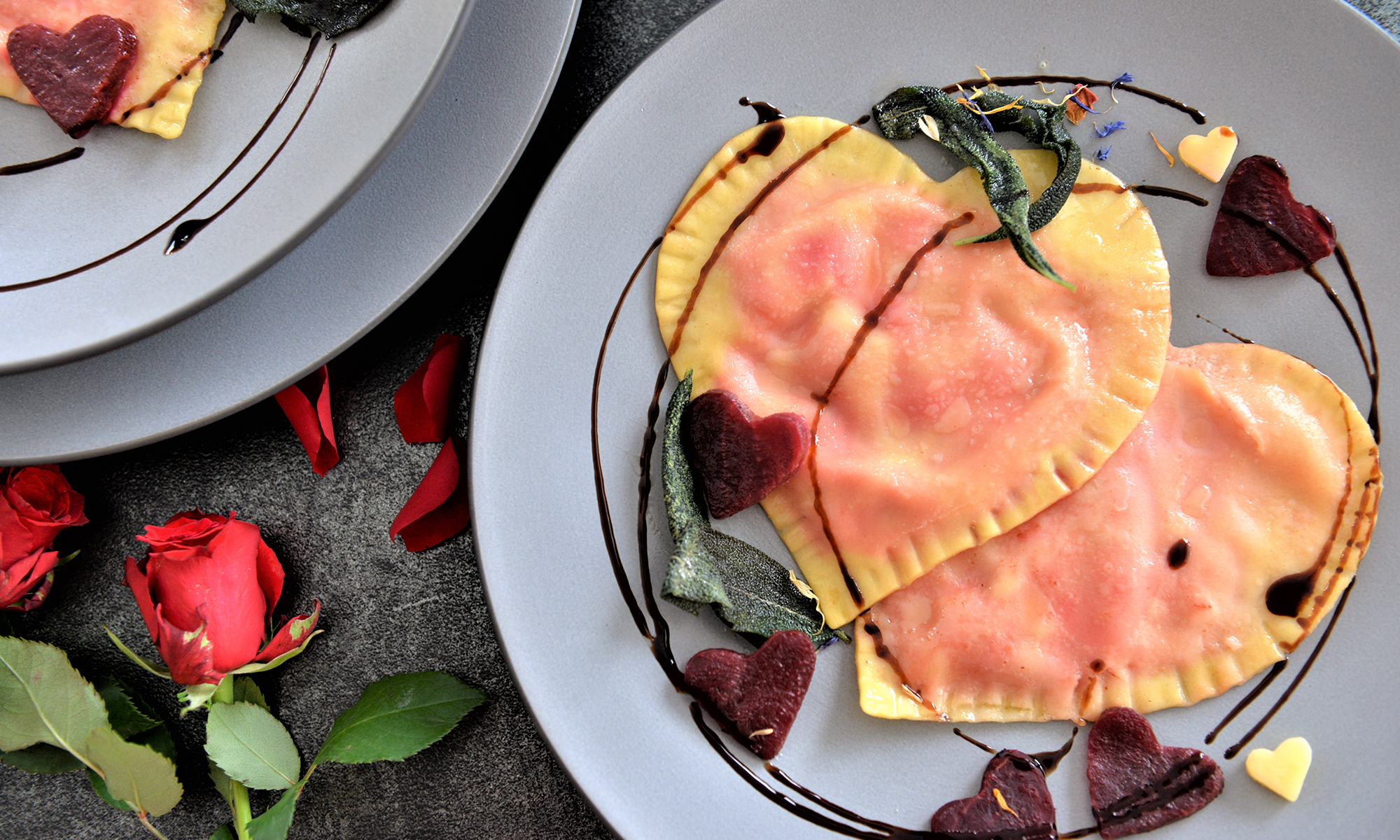 Ingredient
As a starter: Quantity for 4 people (makes 8 hearts)
As a main course: quantity for 4 people, double the quantity in the recipe
1 large and 1 small heart cutter, approx. 12 cm Ø and 2-4 cm Ø
120 g Raclette cheese without rind, cut into fine cubes
200 g ricotta
120 g cooked beetroot, peeled and cut into large pieces
1-2 cooked beetroots, sliced to cut out small hearts
1/2 tsp salt
ground pepper
a little garlic powder
500 g pasta dough (ready-made), 2 rolls
1 egg white for coating
For finishing:
4-5 tbsp fine olive oil
1/2 bunch sage leaves
Preparation
40
minutes
In the pan
Preparation time: 30 min
Cooking time: 10 min
1. Put the diced Raclette cheese and ricotta in a bowl.
2. Put the peeled beetroot in a litre measure and puree finely with a hand blender. Add the beetroot mixture to the cheese mixture and mix everything together.
3. Season to taste with salt, garlic powder and ground pepper.
4. Now roll out the pasta dough and brush one half with egg white. For a pasta heart, place 4 heaped teaspoons of the filling on the dough. Choose the spacing between the fillings depending on the size of the cookie cutters.
5. Then place the other half of the pastry on top and press firmly around each filling, cut out the pasta hearts with the large cookie cutter (remove any air cushions that may have formed towards the edge). Press down the edges of the hearts with a fork.
6. In a high pan/pot, bring salted water to the boil, reduce heat and add pasta hearts. Leave to simmer on low heat for approx. 5 min.
7. In the meantime, cut out some small beetroot hearts. Fry the sage leaves in the oil in a frying pan until crisp and add the small beetroot hearts. Keep warm.
8. Finish; remove the pasta hearts from the water with a skimmer, drain and also add to the frying pan. Toss everything briefly in the sage-flavoured olive oil and arrange on warmed plates. Serve immediately!
Author: A recipe creation from Belinda Kern, Eat, letters and deco
Raclette Suisse