Zucchini Raclette Pie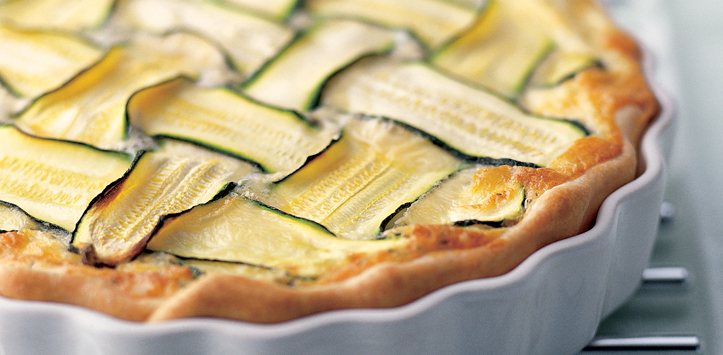 Ingredient
For 4 persons
For a baking tray of 24 cm ø

Waxed paper for the baking tray
1 round rolled-out readymixed dough, 270 g
Glaze:
2 dl milk
3 tablespoons flour
3 eggs
½ teaspoon salt
freshly ground pepper
2 teaspoons herbs of the Provence
250 g Swiss Raclette cheese
1 spring onion
3 straight zucchini, 200 g
Preparation
55
minutes
1 Line baking tray with waxed paper and dough, repeatedly puncture dough with fork, put to chill.
2 Mix milk, flour, eggs, salt, pepper and herbs. Grate Raclette cheese with the potato grater and add to mixture. Cut spring onion and green stalk into thin rings and add to mixture. Thoroughly mix all the ingredients and spread onto the dough.
3 Cut zucchini lengthwise into thin slices with a peeler or vegetable slicer and put the slices in a crisscross pattern onto the pie. Bake for 30-35 minutes on the lowest rack of the oven preheated to 200 °C, serve hot.
Nutrition [Translate to Englisch:] Eine Portion enthält 552 kcal, 28 g Eiweiss, 41 g Kohlenhydrate, 31 g Fett